September 17, 2023
---
Car Parking Shade Design: Elevating Your Comfort and Safety
In the scorching desert climate of Kuwait, the concept of car parking sheds has become an indispensable part of daily life. There's simply no substitute for the invaluable protection they offer to your cherished vehicles. Yet, surprisingly, many remain unaware of the numerous benefits that a well-designed car parking shade can bring to their lives. The relentless sun and sweltering heat of Kuwait make it a challenging environment for both drivers and their vehicles. While most of us are well aware of the importance of sheltering ourselves from the scorching sun, we often overlook the need for protecting our cars in the same way. The truth is, the sun's harsh rays, with their damaging UV radiation, can cause significant harm to your vehicle over time, from faded paint and cracked dashboards to overheated interiors.
So you may have questions, Which is the best car parking shade solution in Kuwait?
---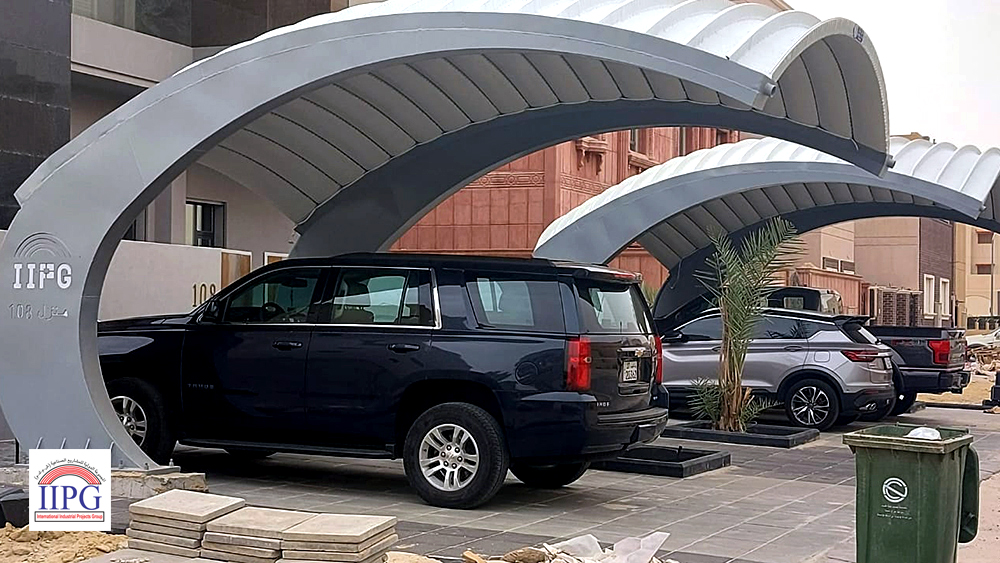 ---
Most Used and Popular Car Parking Shed in Kuwait
K-span Parking Shade

Fabric Car Parking Shade

Polycarbonate Parking Shade

Solar Panel Parking Shade

Pergola Car Parking Shade
The Best Car Parking Shade Solution
When it comes to selecting the best car parking shade solution in Kuwait, several key factors should guide your decision. It's essential to consider not only the design and functionality but also the materials used in constructing the parking shed. Your choice will depend on a combination of factors, including your specific location, personal preferences, and budget considerations.
Understanding the materials employed in crafting your parking shed is paramount. Different materials offer various advantages, such as durability, weather resistance, and aesthetics. Whether you prioritize a sturdy metal structure, a sleek and modern design, or a more traditional approach, knowing the materials used can significantly impact your decision-making process.
Your choice of parking shade should also be influenced by your location within Kuwait. Factors such as the local climate, sun exposure, and wind patterns should be considered. For example, in the intense desert heat of Kuwait, UV protection and heat resistance are crucial factors to contemplate. Additionally, if you reside in a coastal area, you may need a parking shed that can withstand saltwater and high winds.
Finally, your personal preferences and budget play a pivotal role in determining the best car parking shade solution for you. Some may opt for a more elaborate and feature-rich design, while others may prioritize a cost-effective solution that provides the necessary protection without unnecessary frills. Your budget will ultimately influence your choice, but it's crucial to strike a balance between affordability and quality.
In conclusion, selecting the best car parking shade solution in Kuwait is a decision that should be made with careful consideration of the materials used, your specific location, as well as your personal preferences and budget. By weighing these factors, you can ensure that your chosen parking shade not only meets your immediate needs but also stands the test of time in Kuwait's challenging climate. You also need to know about the types of car parking sheds
---
Different Types of Car Parking Shades and Structures
Whether you're in need of standard or customized car parking shade solutions, you've likely come across a range of terms regarding styles and structures. Understanding this terminology can simplify your search and help you choose the perfect shade.
"IIPG Car parking shades are classified based on two main factors: the structure and the style. The structure relates to the design, such as cantilever or wall-mounted shades."
As a leading car parking shade provider in Kuwait, IIPG has curated a list of popular structures and styles. This resource aims to streamline your decision-making process, making it easier to find your ideal parking shade solution.
Types of IIPG Car Parking Shades
With our extensive experience, IIPG has successfully completed over 13,000 car parking shed projects, including private ventures for offices, residences, and hospitals within various corporations. Our commitment to customer satisfaction and tailored solutions has made us a trusted name in the industry.
As you explore the range of parking shed options we offer, you can confidently make decisions based on your specific requirements and preferences.
---
---